My Skin Journey + 2 Minute Makeup Routine
This shop has been compensated by Collective Bias, Inc. and its advertiser. All opinions are mine alone. #SkinEssentials #CollectiveBias
Our skin is such a personal thing. I realize now that I am in my 20's that growing up, skin is a huge deal – and I don't think we realize it at the time. We worry about having acne, freckles, being too pale, too dark. We try to cover up with makeup and hope and pray that people won't notice that blemish that showed up overnight. When I was in high school and going into college, I was very conscious of my skin & not very confident in how it looked or felt.
Although many high school and college aged students deal with acne or oily skin, I had the opposite problem. I have always had pale skin, lots of freckles, redness, and it was always super dry. I felt like there wasn't anyone that could relate or teach me how to properly take care of my skin at that age because it wasn't the norm. I now know, that more people deal with this than just me, so I hope this can help some of you who may be dealing with insecurities in this area like I did.
All the fashion magazines and makeup aisles only ever showed me how to combat blemishes and how to matte your oil spots, but that isn't what I needed. Over time, I have found a skin care routine and makeup products that work for me & help me feel confident in the skin I've been given. Since then, I learned that exfoliating is my friend – and the Neutrogena® Oil-Free Acne Wash Pink Grapefruit Foaming Scrub always helps with giving me soft and hydrated skin! I love that it has grapefruit extract and vitamin C – so it smooths without over-drying. Doing this 2x a week in between my regular Clean & Clear® MORNING BURST® Facial Cleanser was just what my face needed & I discovered that makeup sits much better when my skin is beautifully clean and properly hydrated. The Clean & Clear® MORNING BURST® Facial Cleanser has soft BURSTING BEADS® that burst with energy and vitamins making sure my skin feels amazing and is taken care of!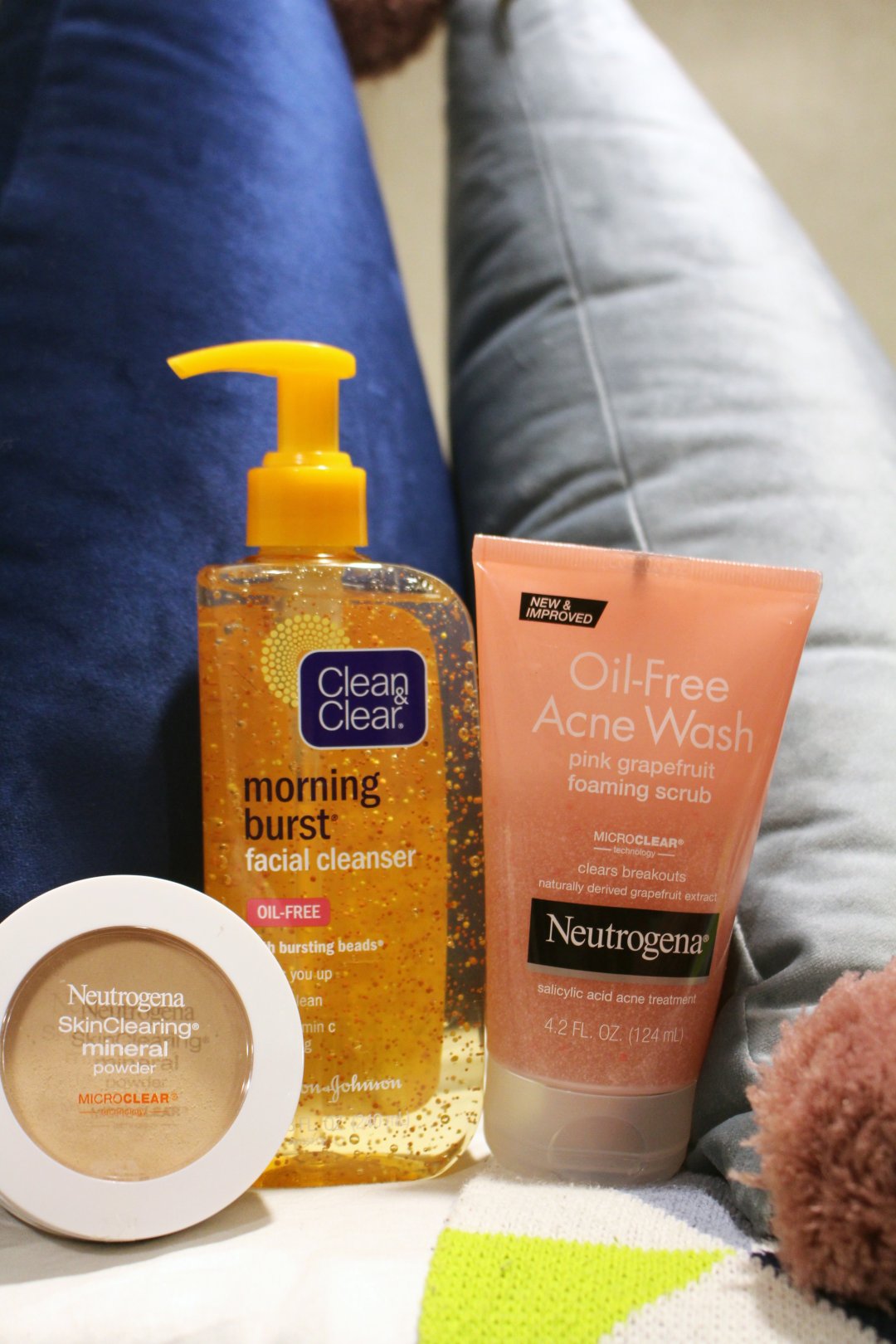 Here's a little about my story of accepting and loving my skin.
I was always the youngest one in my class & nearing the end of high school I decided to take part in early college instead of pursuing my senior year. This meant that I was heading to college at age 16. I was excited and nervous – but overly conscious of how I looked. The night before my first day of college, I stayed up for hours… picking out my outfit so I didn't look like I was so young… trying out different makeup to hide my freckles that I always thought made me look ever younger…. Testing different lipsticks that hydrated my always chapped and dry lips…
I look back and realize how silly it was – but in the moment, it mattered to me & I know that others heading to high school or college this fall may be feeling that same exact way! I want you to know that your worth doesn't come from your perfectly styled first day of school look, but by the ambition, compassion, and love you portray in an environment where it can be so hard to stay positive sometimes.
Now onto the SUPER easy 2 minute makeup routine. This is perfect for before school, work, or the parent drop of line. We are all busy and mornings can be rough, so this is perfect!
Step 1. I always start off with making sure my skin is clean using my Neutrogena® Oil-Free Acne Wash Pink Grapefruit Foaming Scrub and Clean & Clear® MORNING BURST® Facial Cleanser.
Step 2. Then, my Neutrogena® SkinClearing Mineral Powder is my best friend. I rarely use foundation because I'm not trying matte and cover, just color correct a bit. It makes for a faster process and a natural look. It is the only gentle powder to blend soothing minerals with MicroClear® Technology and feels flawless!
Step 3. Then, I love finding a bronzer or powder that has a dark deep brown color. I use it as a bronzer but also as an eye shadow!
Step 4. Lastly, I add on a quick run of eyeliner, mascara & lip-gloss. As I said earlier, my lips tend to be very dry and chapped so I always need something with super hydration powers. That's exactly what the Neutrogena® Hydro Boost gives me!
I got all my products at Target – which is always my one stop shop for back to school season! They are even offering sales right now on these products which is amazing too – use Cartwheel and save on Neutrogena® and CLEAN & CLEAR®. Stop in this weekend, Thursday-Sunday, and get 20% off any Neutrogena® cosmetics product and buy one Clean & Clear® product, get one 25% off! Also, don't miss out on the Buy 3 Neutrogena® facial skincare product, get a $5 gift card deal as well!
I am wishing everyone a happy, healthy, and confident back to school season!
This post is sponsored by CLEAN & CLEAR® and NEUTROGENA®. I only recommend products I use personally and believe my followers will also enjoy! Some of the products mentioned were provided by CLEAN & CLEAR® and NEUTROGENA® for this review.
Trackback from your site.