SMILE Gift Basket Perfect For Mama Friends
This shop has been compensated by Collective Bias, Inc. and its advertiser. Product was provided by the client for review; however, all opinions are mine alone. #WorldsSmartestToothbrush #PhilipsSonicare #OprahsFavoriteThings #CollectiveBias
Are you as excited for the holidays as I am!? I know it's super close, but some of us are still online searching for great ideas on what to get those special friends and family members. I know I am not the only one, am I right? I have been so blessed to have been given some amazing mama friends around me, and I wanted to find something that they would appreciate, that would give them a little bit of special self care, and that would make them SMILE! I realized that we don't always get ourselves even just practical necessities around the holidays, because, as a mother, we are shopping for everyone else! This year, let's spread a little cheer and gift one of your closest friends a gift basket that will surely make her light up from ear to ear.
Of course, there are a lot of things that can make a mama smile. But I wanted to take it down to the basics – since, as I said – we generally don't do so well with splurging on items like this for ourselves. I am definitely one of those people… have I always wanted to try one of the newest, latest & greatest electric toothbrushes? Of course! Would I most likely only buy them for my husband and kids during Christmas? Absolutely. This is why I love the idea of giving it to a fellow mom friend. She will appreciate it & oh boy, does she deserve it!
In this gift basket, I added the Philips Sonicare DiamondClean Smart 9300 Rechargeable Toothbrush which is simply amazing. I have never seen something so advanced and well made in a toothbrush before! I also added some more fun goodies that will give that friend a confident and radiant smile! Treats like, beautiful new lip glosses and lipstick, toothpaste & floss, minty gum, & some face masks! This mama will be shining into the new year, that's for sure!!
Hover over the image below to start shopping for your own SMILE basket!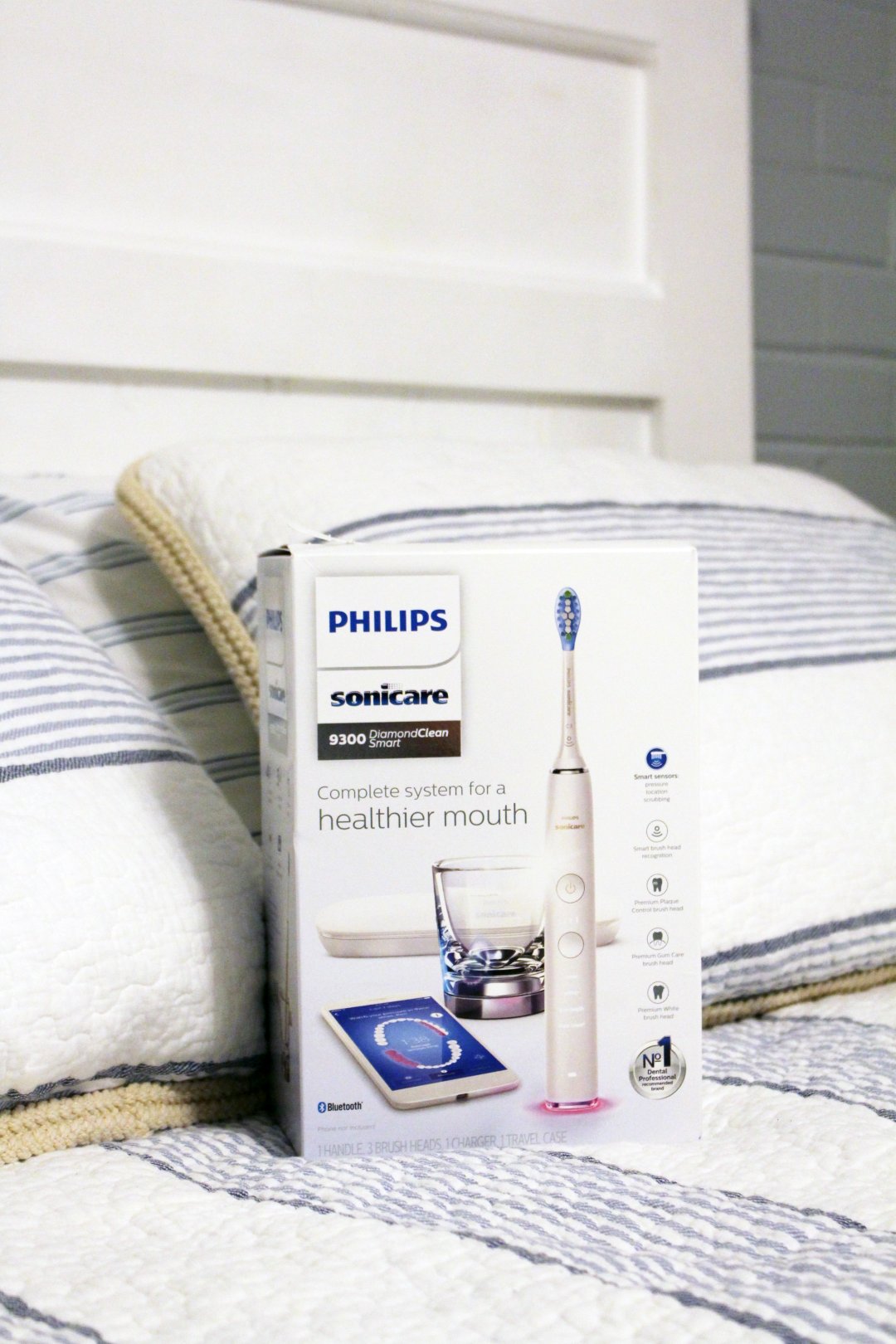 Let's make a smile basket together! For this basket you will need:
1. Something practical – The Philips Sonicare DiamondClean
2. Something yummy – a delicious gum or mint!
3. Something pretty – a new lipstick or gloss!
4. Something to make her feel special special – a face mask, new makeup, or maybe a new piece of jewelry!
There are a bunch of reasons why I chose the Philips Sonicare DiamondClean for this holiday gift, but here's just a few of my favorite parts about it! Did you know that Philips Sonicare is the number 1 Dental Professional recommended brand? That's always a good sign & getting someone a gift that is reputable and reliable is important to me. Also, only the new DiamondClean Smart has four high-performance brush heads and Smart Sensor technology for personalized feedback and coaching. It gives you superior results and 100% confidence in your oral care – every time – through an app! High tech, much? I love it! This toothbrush automatically adjusts to the optimal mode and intensity level for you and your care. There is simply nothing like it.
You don't even have to leave your house to put this gift together! That's one of the best things about shopping on Amazon! It's super simple. Pick your color choice & SHIP! I absolutely love the ease and flexibi;lity and am grateful that I can get this online without the hustle and bustle of the stores this time of year.

Do you have a mom friend in your life that you think needs just another reasons to smile this season? How about trying this gift basket out yourself! It's a practical – yet special – gift that will be used every single day (2x a day!)
Trackback from your site.